Director of the Afro-American Cultural Center and Assistant Dean of Yale College: Timeica E. Bethel-Macaire '11
While Timeica E. Bethel-Macaire (she/her) began her tenure as Director of the Afro-American Cultural Center at Yale in August 2022, her leadership within The House and Black Yale communities spans fifteen years. Dean Bethel has deep experience as an active member of The House, both as an undergraduate and an alumna. From 2007 to 2011, when she was a student in Yale College, she was heavily involved in many of The House's student organizations. She took on an executive board role with the Black Student Alliance at Yale (BSAY) weeks after arriving as a first-year student, and she served on the BSAY board until she graduated. Throughout her four years on campus, she was a leader of multiple House organizations, including the Black Church at Yale (BCAY), the Dominican Students Association (DSA), and the Urban Improvement Corps (UIC). For her high level of engagement, she was awarded the inaugural Caroline Jackson Smith House Leadership Award. As an alumna, Bethel volunteered to lead the planning of the 50th Anniversary Celebration of the Afro-American Cultural Center as an alumni co-chair. Over the five years of planning for that celebration, she collaborated with Yale staff, alumni, and current students to plan and execute the event, which brought together over 600 members of the Yale community. 
For much of the last three years, Bethel has been a Program Director at LINK Unlimited Scholars, a robust fellowship that illuminates the path to-and-through college for Black middle and high school students in the Chicagoland area. She also brings experience as a previous Teach For America (TFA) corps member/teacher in her hometown of Chicago. After teaching for four years, Bethel joined TFA's staff, serving as a Manager of Teacher Leadership Development and Recruitment Director for four years. She brings her leadership experiences as a student, alumna, teacher, and counselor with her as she proudly returns to Yale. 
Bethel is a lifelong learner and educator. She lives by her high school's slogan, "everything to help; nothing to hinder." She is passionate about educational equity and providing people with the opportunities and resources necessary to be successful. Dean Bethel-Macaire earned her B.A. in Sociology from Yale College.
Assistant Director of the Afro-American Cultural Center: Sofia Blenman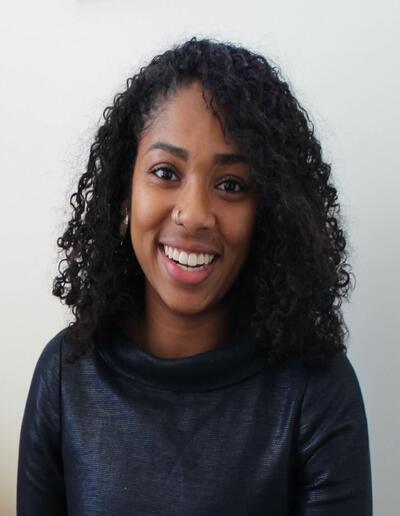 Sofia Diane Mercedes Blenman (she/her) proudly serves as the Assistant Director of The House and has been in the role since September of 2019.
Sofia identifies as a Trini-Indian, Afro-Latina, bi-racial woman. Born in Boston and raised in southern New Hampshire, she's a New Englander through and through. She received her Bachelor's degree in Fine Arts, Music Business, from the University of Massachusetts, Lowell and her Master's Degree in Organization and Professional Communication from Regis College. For the completion of her Master's degree, Sofia conducted a qualitative thesis entitled, "Committed to Healing", which was a study on the impact of self- care tactics for Black-identified womxn, working in Higher Education. She remains committed to healing, by consistently applying what she learned (from the study) into her current work practices.
Some of Sofia's favorite pastimes are: brunch, playing tennis, traveling to new places, trying new restaurants, doing group exercise classes, cooking new recipes, listening to new music, bike rides, knitting baby blankets and scarfs and cuddling with her fur-babies, "Nellie" (Yorkshire Terrier) and "Odin" (American Pitbull Terrier).
Sofia would love to get to know you and share more about herself. Feel free to visit her at her office on the first floor of the AfAm House.