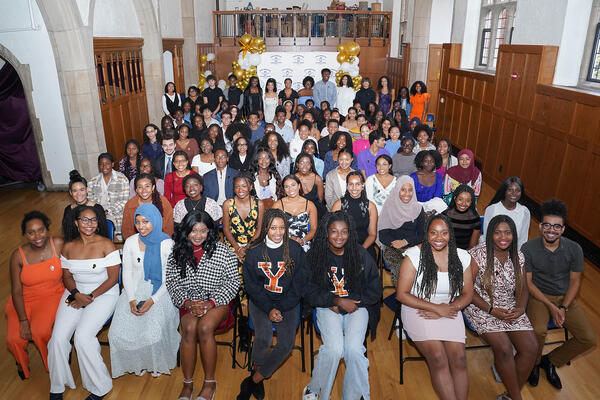 In addition to the many events held at the Afro-American Cultural Center ("The House") by our resident groups, we also hold several annual traditions throughout the year, including:
Welcome Back Cookout
Typically held on Labor Day, the House hosts a cookout for new and returning students to kick off the new year. This event informally introduces new students to the House, our events, resources, and our resident groups. It brings together the House community across cultures and organizations.
Jubilee! New Student Welcome Ceremony
In 2002, Dean Pamela George and her staff created our first Black Convocation to formally welcome new students of African heritage and those significantly affiliated with the Afro-American Cultural Center in a culturally-affirming ceremony that marked the beginning of their time at Yale. In September 2017, Dean Risë Nelson revived this tradition and renamed it "Jubilee! New Student Welcome Ceremony." This joyful celebration formally introduces our new students to their campus and community support networks and to the House's history, values, and traditions. During this annual ceremony, House student staff and organizational leaders offer a pin to each new student that is meant to remind the student of their pride in our cultural legacies and of their connection to the House. *Registration is required for this event and starts in August. Contact afamhouse@yale.edu for more info.
Family & Friends Weekend
Every October, our students, and their visiting families/friends are invited to an Open House at the Afro-American Cultural Center with staff and student leaders. Attendees are welcome to attend an informal reception and House tour to learn about our history as the oldest and largest Black cultural center in the Ivy League. Throughout this weekend, some of the House's resident groups, like Shades of Yale and Yale Gospel Choir, hold their signature events. All are welcome!
"The Game" & Thanksgiving Dinner
Nearly every year since 1875, Harvard's and Yale's football teams face off in November, which serves as Yale's Homecoming Game, or simply "the Game." Since 1945, the Game has been played in odd years at the Yale Bowl, during which the Afro-American Cultural Center hosts a tailgate that attracts nearly two thousand students, alumni, faculty, staff, and community members who wish to reconnect across the greatest football rivalry in the Ivy League while celebrating the brilliance and beauty of the African Diaspora. Over the weekend, key events are held at the House and around New Haven by the Black Student Alliance at Yale (BSAY), Yale African Students Association (YASA), Yale Black Men's Union (BMU), Yale Black Women's Coalition (YBWC), and Yale's Black Graduate Network (BGN), and their Harvard counterparts. In even years, the House sends a bus of our students up to Harvard to enjoy the Game and friendly rivalry in Cambridge. Each year, the House also holds its annual Thanksgiving Dinner with the Yale Black Alumni Association during the Game weekend.
Black Coffee
The House coordinates casual events during midterms and finals to give our students a break from studying. The goal is to just kick back, relax, and enjoy some good food and fun!
MLK Celebrations
The Afro-American Cultural Center revived its annual MLK Poetry Slam & Open Mic in January 2016 for students to share their poems and artistry as related to the legacy of Rev. Dr. Martin Luther King, civil rights movements, and social justice issues. This past year, with the university's three other cultural centers, we hosted the MLK "Voices of Hope & Resistance" Poetry Slam & Open Mic, named after Busboys & Poets' Peace Ball, to offer a space for students, community members, and others to share their poetry and artistic expression to build intercultural solidarity and resilience together. The House also supports the University's MLK Commemoration with different events that bring the campus and local communities together in the spirit of Dr. King.
Black History Month Programming
While the Afro-American Cultural Center celebrates Black history throughout the entire year, we also formally observe Black History Month (BHM) each February to honor the histories and contributions of people of African heritage to our university, our city, our nation, and our world.
The Afro-American Cultural Center hosts its annual BHM kick-off for all members of the university and local communities. In addition to several events hosted by our resident groups, including the Black Solidarity Conference, which is the largest student-run Black Student Leadership Conference in North America. Since 1995, over 700 undergraduates of various backgrounds from across the United States and Canada have attended this annual event to discuss issues pertaining to the African Diaspora. Through discussions, panels, networking, and social gatherings, students from across the country analyze issues affecting the Black/Afro-Diasporic community and explore solutions that can be implemented on their own college campuses. The Afro-American Cultural Center closes out the month with a bi-annual trip to the Smithsonian's National Museum of African American History & Culture.
History
In 1926, historian Carter G. Woodson and the Association for the Study of Negro Life & History announced "Negro History Week" would be held in the second week of February, which coincided with Frederick Douglass' birthday. In 1969, the same year that the Afro-American Cultural Center was established, the Black United Students and their advocates at Kent State University proposed to expand this to an annual celebration, and in February 1970, the first celebration of Black History Month was held there. Educational institutions and Black cultural/community centers began recognizing this month as Black History Month, and in 1976, President Gerald Ford officially named February "Black History Month" urging all Americans to "seize the opportunity to honor the too-often neglected accomplishments of black Americans in every area of endeavor throughout our history." In 1987, the United Kingdom officially named October as its Black History Month. In 1995, Canada officially recognized February as Black History Month, and recently in 2016, the Netherlands named October as its Black History Month.
Black Women's Retreat
Since March 2016, the Afro-American Cultural Center at Yale has held an annual Black Women's Retreat to offer attendees who self-identify as women the opportunity to recommit to radical self-love and self-care as they hold up our communities and to reconnect with one another as sources of encouragement and inspiration.
Bouchet Ball & Awards Ceremony
This formal gala celebrates the close of another successful academic year, and the award ceremony recognizes the achievements of the House's undergraduate, graduate and professional students, faculty, staff, alumni, and community partners who support the House's mission and continue in the tradition of excellence of Edward Alexander Bouchet. Recognitions include:
Rising Star Awards for a First Year College Student and a Graduate/Professional Student
Awards for Excellence in Scholarship, Leadership, Service, the Arts, and Athletics
Awards for Outstanding Students of Yale College and Graduate/Professional School
Awards for Faculty Excellence, for Professional Achievement (staff/administrator), for Alumni Partnership, and for Community Partnership.
History
Born in 1852 in New Haven, Connecticut, Edward A. Bouchet became the first Black person to graduate from Hopkins Grammar School in 1870, at which he was also valedictorian. He was one of the earliest Black Americans to complete his bachelor's degree at Yale College in 1874. Bouchet made history two years later, becoming the first Black American to earn a doctorate degree in the United States. At that time, Bouchet was the sixth person in the western hemisphere to earn a doctorate in physics. He was also the first Black American to be nominated to– and one of the first Black Americans to be elected to – the prestigious Phi Beta Kappa Honor Society. After earning his doctorate in physics, he taught at the School for Colored Youth in Philadelphia for more than 25 years. He died in 1918. Bouchet's portrait hangs in the nave of Sterling Memorial Library.
Black Graduates' Celebration
Since May 2000, the Afro-American Cultural Center at Yale has held its annual Black Graduates' Celebration to formally recognize the achievements of our graduating Black students and students who have deep connections to the House, in a culturally-affirming ceremony that marks the end of their time at Yale. During this celebration, the House presents awards to acknowledge exceptional contributions, conducts the Donning of the Kente ceremony, and inducts our graduating students into the Yale Black Alumni Association.
Awards include:
Professor Robert Farris Thompson '55 GRD '65 Award for Outstanding Research in the Advanced Study of Africa
Professor John Blassingame GRD '71 Award for Outstanding Research in African American History & Culture
Arthur L Pulley '53 LLB & Bernice Cosey Pulley '55 DIV Research Award for the Advancement of Peace and Justice in the Americas and Africa
Caroline Jackson Smith '74 Leadership Award
Janifer Lynn Lighten '83 Leadership Award
Willard "Woody" Brittain, Jr. '70 Leadership Award
Khalid Lum Leadership Award
Leadership Award for Community Arts & Service Award
Calvin Hill '69 Excellence in Athletics & Service Award
Outstanding Student Leader Awards 
*Registration is required for this event and starts in February. Visit https://yaleblackgraduation.wordpress.com/ or contact YaleBlackGraduation@gmail.com for more info.
Alumni Reunion Receptions
On the Saturday of each Yale College Reunion, the House holds a special reception for alumni and guests to reconnect before the official Reunion Weekend formally begins. We welcome alumni back to the House to catch up with old friends, to hear from current students about their Yale experiences, and to hear about what the House has been up to since their last visit.
Anniversary Celebrations
We are incredibly proud that The House is the first and largest Black cultural center in the Ivy League. Every five years, hundreds return to The House to celebrate the significant contributions that members of our community have made to our campus, the country, and the world. During our anniversary celebrations, we honor our forebears like House Founders Donald Ogilvie '68, Armstead Robinson '68, Glenn de Chabert '70, Woody Brittain '70, and other leaders who brought to life visions of a thriving Black community at Yale and New Haven and of a center that would facilitate our community's success through scholarship, leadership, service, advocacy, pride, and solidarity. The anniversary also includes conference sessions that focus on a range of topics including the arts, history, mentoring, spirituality, politics, business and philanthropy, and more. We close our anniversary events by presenting awards of recognition to The House's trailblazers and other significant contributors and dancing the night away in celebration of The House's rich history and bright future! 
We celebrated The House's 50th anniversary April 29 - May 1, 2022, after it was postponed for two years due to COVID-19. Visit www.YaleAFAM50.com for more details and links to the events that were live-streamed!