Not only does the House serve as a large network of support for our new students, we also welcome pre-college and prospective students to come visit us on their campus tours so that they can get a glimpse of student life at the House. For information on any of these offerings, please contact afamhouse@yale.edu.
Pre-College & Prospective Students
The House and our student organizations host events during Multicultural Open House and Bulldog Days to give prospective and admitted students a taste of life at the House and Yale. 
[NOTE: DUE TO COVID-19, BULLDOG DAYS WILL NOT BE HELD ON CAMPUS AS IN PAST YEARS, BUT THE HOUSE AND ITS STUDENTS/ORGANIZATIONS ARE OFFERING VIRTUAL OPPORTUNITIES FOR ADMITTED STUDENTS TO CONNECT WITH AND LEARN ABOUT LIFE AT YALE! ADMITTED STUDENTS WHO SELF-IDENTIFY AS BEING OF THE BLACK/AFRICAN DIASPORA AND WHO ARE INTERESTED IN LEARNING ABOUT THE HOUSE AND OUR UNDERGRADS' EXPERIENCES SHOULD BE SURE TO JOIN THE BLACK STUDENT LIFE AT YALE COMMUNITY ON THE YALE ADMITTED STUDENTS NETWORK HERE. CLICK HERE FOR CLASS OF 2024 GENERAL INFO. YOU CAN ALSO SUBMIT GENERAL QUESTIONS AND BE CONNECTED WITH OUR PEER LIAISONS AND STUDENT LEADERS BY EMAILING US AT AFAMHOUSE@YALE.EDU.] 
For the House's 2020 Virtual Bulldog Days schedule, please click here
Additionally, the House offers student panel discussions and center tours to middle and high school visitors. To request a House tour, email AfAmHouse@yale.edu. 
[NOTE: DUE TO CONCERNS RE: COVID-19, THE HOUSE IS CURRENTLY CLOSED AND HOUSE VISITS WILL NOT BE OFFERED IN SPRING 2020.] 
Please click here for our virtual tour.
Peer Liaison Program
Peer Liaisons (PLs) are upperlevel students who help mentor and connect First Year students to the wealth of support and programming initiatives based in the Afro-American Cultural Center, the Asian American Cultural Center, the La Casa: Latino Cultural Center, the Native American Cultural Center, the Office of International Students and Scholars, and the Office of LGBTQ Resources, the University Chaplain's Office; across the University; and New Haven.
In addition to holding individual mentoring sessions and "family" activities to help facilitate their mentees' smooth transition to college, the House's PLs work together coordinate events for our first year students based around academic success and cultural/social engagement. Events include a semesterly bluebooking party (for course selection), mall trip for winter gear, movie nights and roller skating parties, city outings, and the House's annual Broadway trip.
Meet the current AFAM Peer Liaisons: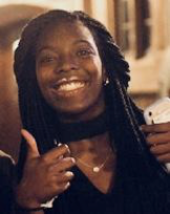 My name is Ngozi Okoli (she/her/hers) and I am part of Berkeley College's Class of 2022. My home is in Glenview, Illinois (a suburb "just outside of Chicago"). I am pre-med, majoring in Sociology with a concentration in Health and Society, and I am interested in global and public health. On campus I am involved in Yale's Nigerian Students' Association, I am the donor coordinator for the American Red Cross at Yale, and I am a Chemistry peer tutor. I also volunteer at the Yale-New Haven Hospital. Fun fact about me is that I share the same birthday as my dad!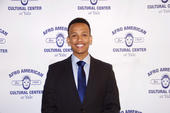 Raajii Daniel (He/Him/His) is a Junior in Jonathan Edward College, from Minneapolis, MN, majoring in Economics. On-campus, he is the Co-President of the Black Student Alliance at Yale and an Undergraduate Learning Assistant for the Statistics & Data Science department. Raajii loves binge-watching Netflix/Hulu and his current favorite shows are My Hero Academia and Attack on Titan.
My name is Jaelen King (he/him/his) and I am a second year in Benjamin Franklin College. I am a prospective Molecular, Cellular, and Developmental Biology major, and I am also pre-med. I am from the southeast (the best region in America!), more specifically South Carolina.  On campus, I am head of community outreach for both the Black Men's Union and the Urban Improvement Corps, and I'm also involved with Black Students for Disarmament at Yale and plan to continue activism work this year. Fun fact about me is that I try my best to have at least one serving of ice cream daily, for health purposes of course.
Kendall Easley (she/her/hers) is a senior in Ezra Stiles College. She is from Denville, NJ and is double majoring in Political Science and Ethnicity, Race and Migration. On top of being a Peer Liaison for the Afro-American Cultural Center, she was also heavily involved with the Black Student Alliance at Yale (BSAY), having served as Co-President of the organization last year. Her fun fact is that Cory Booker follows her on Twitter. Kendall looks forward to once again serving as a PL this year, and welcoming the first-year class to the House community!
Nicole Jefferson (she/her/hers) is a sophomore in Jonathan Edward College, from Los Angeles, California. She is currently deciding between majoring in Political Science, History, or Ethnicity, Race, & Migration. She is interested in politics and social justice. In addition to working as a PL for the House, she is also a staff writer on Broad Recognition and a copy editor with The New Journal. She is also a member of the Yale College Democrats. She enjoys watching reality competition shows and doing yoga!
Anise Overton (she/her/hers) is a sophomore in Benjamin Franklin College who hails from Roswell, GA. She's a prospective creative writing concentrator in the English major and a possible Economics double major. Outside of the classroom, she tutors with Refugee and Immigrant Student Education and is an events director for the Yale Student Mental Health Association. She spent last summer studying abroad in Tokyo, Japan, and in her spare time, she's usually napping or playing video games on Nintendo consoles.
Kelsey Sena Tamakloe (She/her/hers) is a sophomore in Saybrook College, majoring in Political Science. On campus, she works in the Saybrook College Office and is an editor for Down Magazine, an online publication for students of color written by students of color. She loves playing piano and always has headphones on.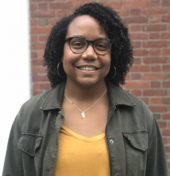 Jadyn Trayvick (she/her/hers) is a junior in Timothy Dwight College majoring in Psychology. She calls Montclair, New Jersey home. Outside of class, she is part of a lab doing Autism research at the Yale Child Study Center, plays the flute in Timothy Dwight's Community Orchestra, and volunteers at a school for people with cognitive disabilities. Jadyn is an avid bullet journal-er and spends much of her free time learning calligraphy and doodling.
Denae Clowers (she/her/hers) is a sophomore in Jonathan Edward College (JE). She is from Atlanta, Georgia and loves ice cream. She plans to major in Economics and also wants to be in the Education Studies Program. She is an active member of JE intramurals and a member of the Black Solidarity Conference Board.
Saphia Suarez is a junior Theater Studies and Film & Media Studies double major in Jonathan Edwards College. She uses she/her/hers pronouns and is from Boston, Massachusetts. She is a proud Afro Boricua, and used to work at La Casa Cultural, so feel free to come up and talk to her about the complexities of Black identity and its infinite points of intersectionality!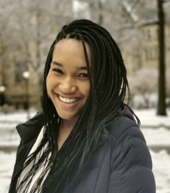 Lindsay Pierce (she/her/hers) is a sophomore in Berkeley College majoring in Cognitive Science. She's proud to call Washington, DC (yes the actual city, not Maryland or Virginia) home. On campus she is on the board of Women Everywhere Believe, a member of Yale Danceworks, and kicks butt at intramurals soccer. Her nickname in high school was "Mama Bear."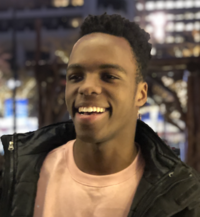 Ihea Inyama (TD '22, he/him/his) is a Computer Science and Economics major from Ewing, New Jersey. He's class of 2022 in Timothy Dwight College. Besides being a Peer Liaison for theAfro-American Cultural Center, he is a co-director of The Good Show (sketch comedy), a member of the Purple Crayon (improv), and he writes freelance inserts for the Yale Herald. He also works as a Cluster Technician for Student Tech Collaborative. Fun fact: when Ihea was little he was baby Santa Claus for a photography company in Ohio!
P.S. (also, his name is pronounced like "E-hi")
Apply to be a Peer Liaison: 
Check back in January 2021 for applications for 2021-2022.