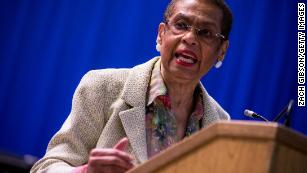 By Dana Bash, CNN
Updated 2:33 PM ET, Fri July 12, 2019
(CNN)In 1967, my mother — then Francie Weinman — graduated from Northwestern University with a degree from the prestigious Medill School of Journalism.
But because she is a woman, the only television news job she could get in her hometown of Chicago was as a secretary at a network affiliate. She always told me that's just the way it was back then for women.
It generally was — until Eleanor Holmes Norton changed it.
Nearly 50 years before the US Women's National soccer team used their World Cup victory
to champion equal pay
, a young civil rights lawyer who would be DC's delegate was on the front line of the fight.
In 1970, she sued Newsweek magazine on behalf of women there who were not allowed to be reporters — but often did reporting work with neither credit nor adequate pay.
That is what drew me to Norton for this Badass Women of Washington series — where I learned so much more about her work not just for women's rights but civil rights. All before she became Washington, DC's delegate in Congress some three decades ago.